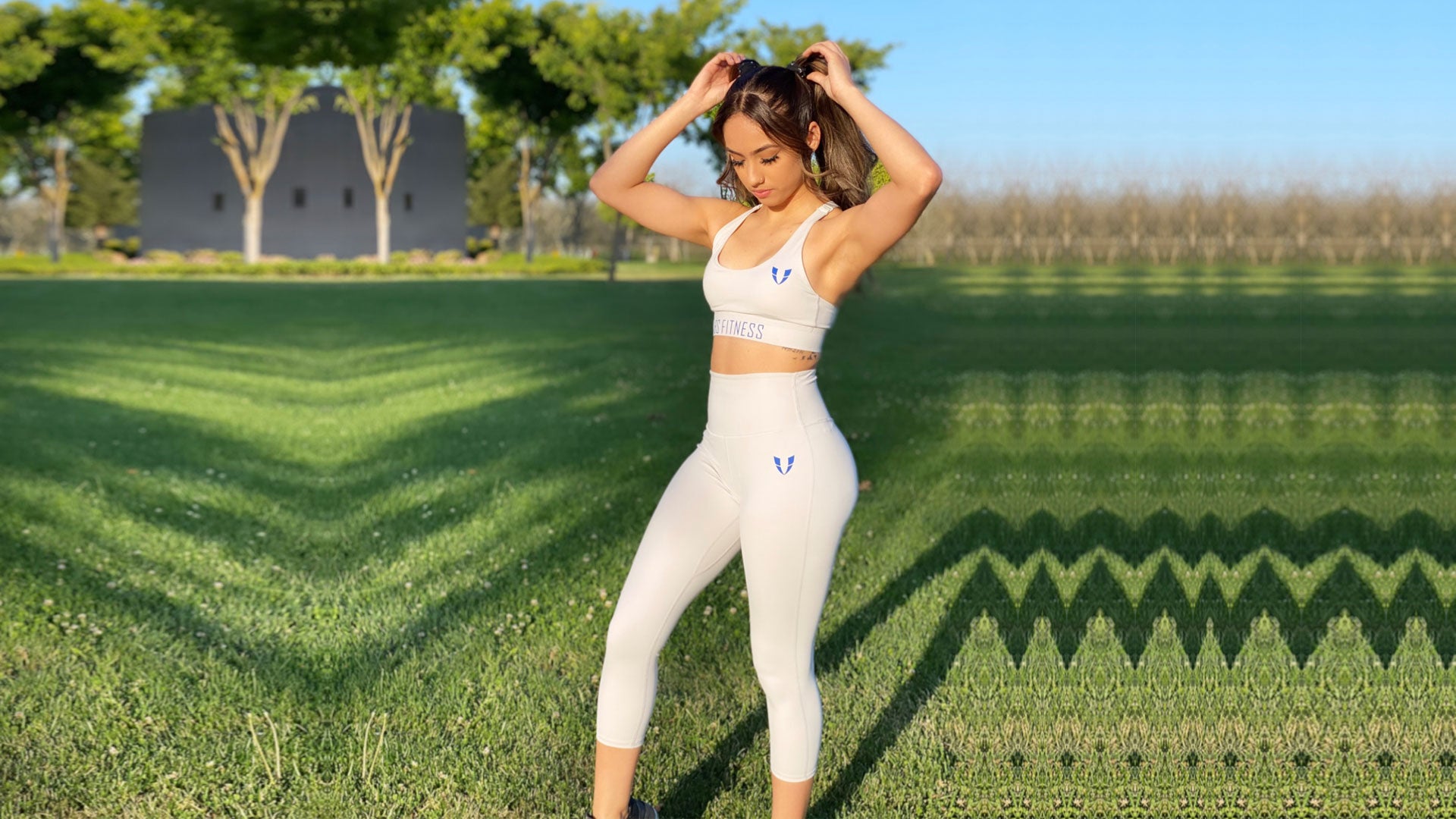 How to wear yoga pants every day?
Nowadays, yoga pants aren't just limited to gyms. Lounging around in activewear is recently turning into one of our favorites fashion trends that makes it effortless to transition between date night looks to gyms.
And why wouldn't it be? They come in a wide variety of colors and styles that it would be an injustice to only look this cute while working out. To make sure you don't make this mistake, we have handpicked some of the best and stylish ways to wear yoga pants every day.
1. Casual Summer Style
Summer opens up countless opportunities to play around with your outfits and put together one masterpiece after the other. Here, go with an asymmetrical long-sleeve top paired with cropped yoga bottoms, a basketball cap, and trendy sneakers. You can always go the extra mile and incorporate an oversized tan or black-colored tote to finish the look.
The best thing about this outfit is how versatile it is. If you happen to be reading this during winters, consider wearing thicker yoga pants with a long leather trench coat to get the ever-needed winter vibes.
2. Layer it
When it comes to yoga pants, the trick is to make them look like skinny black jeans rather than a comfy pair of yoga pants. As a general rule of thumb, you can make your body look flattering by balancing out the two sizes. For instance, if you are wearing tight yoga pants, go for something loose on top. This can be done by layers of the cozy scarf, long cardigan, or perhaps knee-high boots for those casual street style looks.
What will make it look stylish will solely depend on what and how you layer it. If layering has started to look too bulky and unflattering, consider adding a belt around your waist to accentuate your sporty curves.
3. Run Errands
Running errands doesn't have to be this boring and plain. You can always elevate your basic outfits to something more put together and fashionable by incorporating yoga pants in your casual wear. This can be done by pairing yoga pants with a sweater and an oversized denim jacket so you can look chic even while dropping off your clothes at the laundry. Other than that, never hesitate to add a pair of shades to complement the look.
Anyone who doesn't have a thigh gap knows how it isn't that easy to carry yoga pants every day. Therefore feel free to count on FIRM ABS leggings that can make it effortless to run errands in them.
4. Girls night out
Have dinner with your girls after so long? Worry out! You will surely catch up with the same spark and character as always. Go for a leather jacket, buckle booties, and good quality high waist black yoga pants that will make it impossible to put an end to the compliments. As for the top, go for either a basic plain or graphic tee tucked inside your yoga pants along with a scarf to make it a perfect look for dinners.
The best part, you don't have to break your bank by going for another shopping session. These timeless pieces can be found in any wardrobe.
5. Go country-style
Here comes the holy grail style that can amp up your style in an instant. We all know how incredible the combination of denim chambray and brown leather boots are; however, you can go the extra mile and pair it with yoga pants, a chunky neutral scarf (for colder days), and minimal accessories to make you look not only put together but highly fashionable too.
For this specific combo type, it is recommended to go for black yoga pants again with either a white tank top or tee to dress up in this country style. Another thing that can elevate the look can be beachy hair weaves with hoops to bring character to the overall ensemble.
6. Black with black
You can never go wrong with the sophistication of an all-black outfit. Pair your black yoga pants with a black tank top or t-shirt with a leather jacket and black sneakers. You can always go ahead and add a statement to your yoga pants with this Cargo legging that will add an extra layer or edge to the outfit.
Along with that, a red pout and delicate gold accessories can be used to help personalize the outfit.
7. Laidback
This look has been spotted on celebrities like Gigi and Kendall to give the ever-needed chic street style look. You can go for a crop top, bomber jacket, and yoga pants to get comfort and style simultaneously. This can be a great outfit for those lazy days when you have "nothing to wear."
However, bear in mind to cover your lady bits. Although yoga pants are relatively thicker, they are still tight at the end of the day. They are also prone to showing your panty lines, so make sure you have something to cover up after a sweaty session.
8. Sporty Look
There is always an option to wear these yoga pants in a sporty way. The best part? It doesn't even have to be to the gym. Whether you are going for a basketball match with your friends or football sessions, a sporty look can help you get into the feel before you even arrive at the destination.
For this outfit, go for a simple V-neck long sleeve shirt, your favorite sneakers, yoga pants, and perhaps a fitness watch to complete the look. Feel free to play around with colors that can be used to amp up any boring outfit to your favorite one. If you have been following fitness enthusiasts lately, they also prefer to pair it up with a sporty cap and accessories to give an extra edge to the overall outfit.
9. To Cocktails
Going to cocktails in your yoga pants is a bit more daring. Although it is not ideal for wearing yoga pants to something as upscale as cocktails but with your creativity and some outfit tips, you can totally find a way to rock cocktail parties in yoga pants. Go for a leather jacket, knee-high boots, and tunic sweater tucked in your pants with effortless blow-dried hair.
This will give an impression of jeans rather than leggings. Another thing that can be done here is to put on a blazer with a graphic tee and statement makeup to add comfort and style to the look. The key here is to go for oversized style as, when paired with yoga pants, it can help give structure and accentuate your curves.
10. Work it
Who knew there is a way to elevate your office looks simply by incorporating yoga pants into daily wear. They are highly versatile to be paired with any top and occasion to make a go-to outfit piece in your wardrobe.
One of the most elegant ways to style your yoga pants is to mix and match different clothing items to make one outfit, considering how it is always a better idea for appropriate outfits. Therefore, try pairing your yoga pants with a longer top to give an illusion of work pants. Here, you can never go wrong with a light fabric collared shirt along with a trench coat to complete the look.
Try to divert the attention away from your bottom by wearing nude-colored sandals, and bring attention to the best pieces using minimal jewelry and makeup. Avoid wearing heels, ankle-high boots, or glossy slippers, as it will only drag the look down.
11. Pop It With a Bright Crop
When in doubt, go for a pop of color with your regular yoga pants. There are neutral-colored yoga pants available out there that can help give an impression of elongated legs to show off your hard work at the gym.
With that, go for a bright crop top, preferably with interesting patterns or textures to play around with your regular style. Considering how you are sticking to plain and neutral pants, try chunky statement sneakers with popping colors to help boost our confidence. As for the hair and jewelry, keep it effortless with a messy bun and cut down on the jewelry. However, you can consider carrying a tan or nude-colored sling bag to elevate the final look for your convenience.
12. Beach Look
We all know how comfortable yoga pants are. The flexibility offered can make it easier to carry out your day-to-day movement. Therefore, never compromise comfort with style by wearing yoga pants under your beach dress. Here, a flowy floral dress, pair of heels, dangling earrings, and yoga pants can do the trick.
Best of all, no one will notice the tights which are saving the look!
All in all, paring any piece of clothing, in general, depends on how you carry it. A wardrobe filled with essentials, inspiration, and a dash of confidence is all you need to rock yoga pants every day.